Niche 208 – February 18th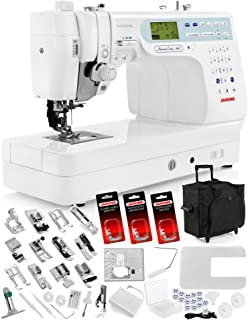 To fully understand and maximize your return from each niche report, please be sure to read our Best Way To Use Our Service and Read Me pages on the site before diving in. Thanks, YDN Team.
1 – Product niche:
This product is in the sewing machine niche
2 – Product keyword phrase:
janome memory craft 6600
3 – Keyword phrase search volume per month:
480 – 720
4 – Price of the product:
$2,199.00 – $2,499.00 (Bundles)
5 – SEO Analysis:
Medium in SERPs context
6 – Affiliate program(s):
www.sewingmachinesplus.com/smp-affiliate.php
www.minervacrafts.com/affiliates
app.impact.com/campaign-promo-signup/QVC.brand?execution=e1s1
7 – Monetization:
Main – Affiliate product placement
Supplementary/Optional:
Adsense, similar
Presser foot set:
www.amazon.co.uk/Sewing-Machine-Presser-Brother-Domestic/dp/B00OZ9RWJE/ref=asc_df_B00OZ9RWJE/?tag=googshopuk-21&linkCode=df0&hvadid=255870769144&hvpos=&hvnetw=g&hvrand=6730409714546019539&hvpone=&hvptwo=&hvqmt=&hvdev=c&hvdvcmdl=&hvlocint=&hvlocphy=1007850&hvtargid=aud-861491289995:pla-422725327143&psc=1
Accessories:
Bobbins, plates, patterns, needles.
runtheaffiliatemarket.com/sewing-affiliate-programs/
8 – Age Profile of Searchers by Percentage:
18 – 24 – 50%
25 – 34 – 25%
55 – 64 – 25%
9 – Potential Backlink sources:
Low budget:
Rankd SEO backlink and guest post database.
Backlinks: the database contains 600+ websites where you can build backlinks. Links include web 2.0's, article submission sites, social bookmarks, profile links, and more.
Guest posts: the database contains 1400+ websites in various niches that accept free and paid guest posts. More than 1000+ are free.
High budget:
Link building is the backbone of SEO and high-quality backlinks can determine the success of your SEO campaigns.
Links from this Premium PBN will explode your results in SERPs. There are only up to 50 outgoing links per domain, which means the link juice from each domain is very strong. Results of this PBN speak for themselves.
10 – Your competitor's most valuable keywords:
SEO Keyword
Search volume per month
SEO Difficulty
janome memory craft 6600
480
36
janome memory craft 6600 problems
40
35
janome memory craft 6600 manual
40
32
janome memory craft 6600 parts
30
36
janome memory craft 6600 professional
20
36
janome memory craft 6600 professional series
20
36
janome memory craft 6600 price
10
36
janome memory craft 6600p sewing machine
10
36
janome memory craft 6600p accessories
10
36
janome memory craft 6600 walking foot
10
36
janome memory craft 6600 accessories
10
36
janome memory craft 6600 sewing machine
10
36
janome memory craft 6600 professional sewing & quilting machine
10
36
janome memory craft 6600p for sale
10
36
janome memory craft 6600 for sale
10
36
janome memory craft 6600p price
10
36
janome memory craft 6500 vs 6600
10
36
janome memory craft 6600p sewing machine reviews
10
36
janome memory craft 6600 professional reviews
10
36
janome memory craft 6600p professional computerized sewing machine
10
36
janome memory craft 6600 bobbins
10
32
janome memory craft 6600 reviews
10
31
janome memory craft 6600 instruction manual
10
14
janome memory craft 6600 service manual
10
5
11 – Content ideas and sources:
sewinginsight.com/janome/janome-memory-craft-6600-review/
picksewing.com/janome-memory-craft-6600-review
www.productreview.com.au/listings/janome-memory-craft-6600-professional
www.piggledee.com/janome-memory-craft-6600p
www.gursewingmachines.com/janome-memory-craft-6600p-3662-reviews
www.viewpoints.com/Janome-Memory-Craft-Professional-Computerized-Sewing-Machine-reviews
12 – What questions your buyers are asking:
Questions they are asking in Google
is janome memory craft 6600 high or low shank
how to oil janome memory craft 6600
Questions they are asking in YouTube
None for this product
13 – Deep field related versus searches:
janome memory craft 6500 vs 6600
janome memory craft 6600 vs 6700
14 – TF-IDF Analysis of competitors keywords:
Keyword
Analysis
memory craft
Needs Improvement
janome memory
Missed Opportunity
craft 6600p
Needs Improvement
sewing machine
Missed Opportunity
craft 6600
Needs Improvement
computerized sewing
Missed Opportunity
feed dog
Needs Improvement
thread cutter
Needs Improvement
feeding system
Needs Improvement
start/stop button
Needs Improvement
presser foot
Needs Improvement
needle threader
Google Optimized
fabric feeding
Google Optimized
layered fabric
Google Optimized
6600p professional
Missed Opportunity
extension table
Google Optimized
builtin needle
Needs Improvement
professional computerized
Missed Opportunity
bonus bundle
Missed Opportunity
lcd screen
Needs Improvement
stitch length
Google Optimized
acufeed layered
Google Optimized
automatic thread
Google Optimized
needle up/down
Needs Improvement
speed control
Needs Improvement
protection plan
Missed Opportunity
quilting machine
Missed Opportunity
foot lift
Google Optimized
6600 professional
Needs Improvement
acufeed system
Needs Improvement
dog system
Needs Improvement
adjustable stitch
Missed Opportunity
thread guide
Google Optimized
stitch editing
Google Optimized
hem foot
Google Optimized
foot control
Missed Opportunity
stitch foot
Google Optimized
maximum stitch
Google Optimized
guide bar
Google Optimized
open toe
Google Optimized
satin stitch
Google Optimized
drop feed
Google Optimized
precision critical
Google Optimized
advanced sewing
Google Optimized
control slider
Google Optimized
memory banks
Google Optimized
knee lifter
Missed Opportunity
knee lift
Google Optimized
rotary hook
Google Optimized
janome memory craft
Missed Opportunity
memory craft 6600p
Google Optimized
memory craft 6600
Needs Improvement
computerized sewing machine
Missed Opportunity
craft 6600p professional
Missed Opportunity
layered fabric feeding
Google Optimized
fabric feeding system
Google Optimized
professional computerized sewing
Missed Opportunity
builtin needle threader
Needs Improvement
6600p professional computerized
Missed Opportunity
acufeed layered fabric
Google Optimized
presser foot lift
Google Optimized
automatic thread cutter
Google Optimized
craft 6600 professional
Google Optimized
feed dog system
Google Optimized
satin stitch foot
Google Optimized
speed control slider
Google Optimized
exclusive bonus bundle
Missed Opportunity
janome mc 6600
Needs Improvement
twin needle guard
Google Optimized
extra high presser
Google Optimized
high presser foot
Google Optimized
foot pressure adjustment
Google Optimized
vertical thread delivery
Google Optimized
thread delivery system
Google Optimized
dual thread guide
Google Optimized
thread guide bar
Google Optimized
features created especially
Google Optimized
unique sevenpoint feed
Google Optimized
sevenpoint feed dog
Google Optimized
free motion quilting
Google Optimized
full rotary hook
Google Optimized
maximum stitch length
Google Optimized
feeding system ensures
Google Optimized
blind hem foot
Google Optimized
piece feed dog
Missed Opportunity
combination stitch editing
Google Optimized
adjustable stitch length
Missed Opportunity
electronic foot control
Missed Opportunity
1/4 inch seam
Google Optimized
6600 sewing machine
Missed Opportunity
ditch quilting foot
Google Optimized
horizontal full rotary
Google Optimized
auto thread cutter
Missed Opportunity
upper feeding system
Missed Opportunity
inch seam foot
Google Optimized
automatic buttonhole foot
Google Optimized
needle up/down button
Missed Opportunity
6600 contains loads
Google Optimized
open toe satin
Google Optimized
15 – Relevant content/promotional forums:
sewing.patternreview.com/SewingDiscussions/topic/110694
www.quiltingboard.com/main-f1/janome-6500-6600-owners-please-t55424.html
forum.missouriquiltco.com/showthread.php?t=61180
www.pinterest.com/knittinggran/janome-6600/
www.homesteadingtoday.com/threads/janome-memory-craft-12000.428909/
Download the report as a PDF Download here:
yourdailyniche.com/wp-content/uploads/2020/02/N208.pdf